With Fall underway and October weather looking great, we take some time to look at one of the most popular Fall species in the area – snook.
Fall Snook Fishing
After the heat waves of Summer, and before the cold snaps of Winter – Snook fishing along the inshore waters surrounding Anna Maria Island takes center stage. This species is a highly prized catch that strikes and fights aggressively. While easily a Summertime favorite as well, what makes Fall snook fishing different? Let's take a look.
One of the major factors for anglers on the water is better weather. It is one of the best times of the year to enjoy Florida's outdoors, and for those looking for an exciting day of fishing alongside, snook becomes the focus of attention. This is an ambush predator that is exciting to catch and makes for picture-perfect memories.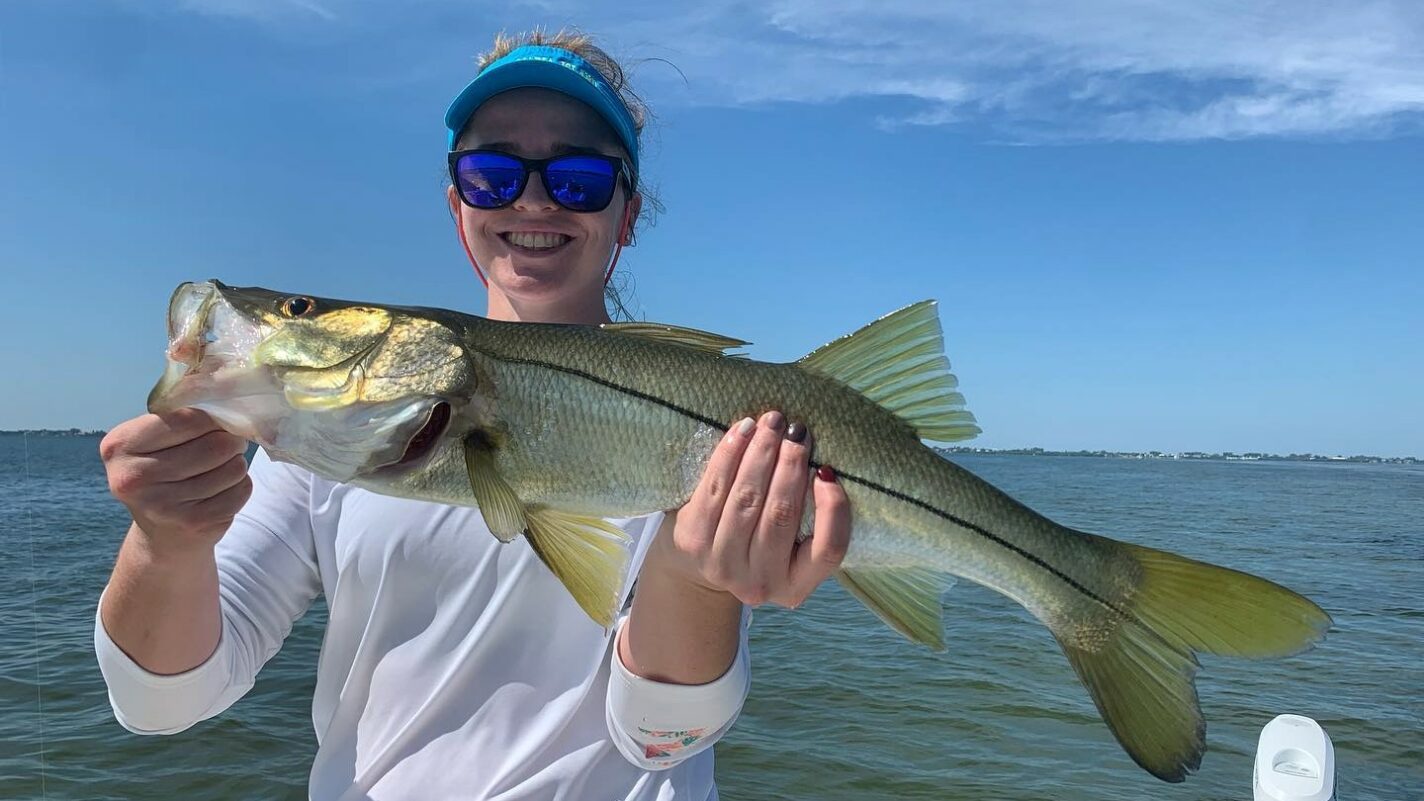 The next thing to consider about Fall in the area is there is lesser boat traffic than during the Summer. While this fishery is highly active year-round and those visiting the area for the first time may not notice this "reduction" – it is a factor that reduces pressure on the fish. When pressure is reduced the activity becomes greater for those on the water.
What To Look For In AMI
In the Summer snook can be found smashing baitfish in nearly any part of this estuary system. When Winter sets in, this species moves up coastal rivers or hangs around warm water outflows for comfort. In the middle, Fall, this species makes its presence known in the backcountry and inshore flats areas.
From AMI anglers should work the mangrove systems and watch the flats, especially around edges and drop-offs while the tide is moving. Wherever you decide to target snook always look for the choke point. This species of fish likes to lay in wait on the backside of currents and flows waiting for baitfish to get swept through. This is the action you want to mimic when fishing for snook. This is also what makes mangrove root systems work so well. When all else fails, simply working the mangroves will generally get you on a snook – alongside several other species.
Sometimes, snook can also be found along the beaches in Fall. While not the most productive, it can make or break a day of fishing when nothing else seems to be working.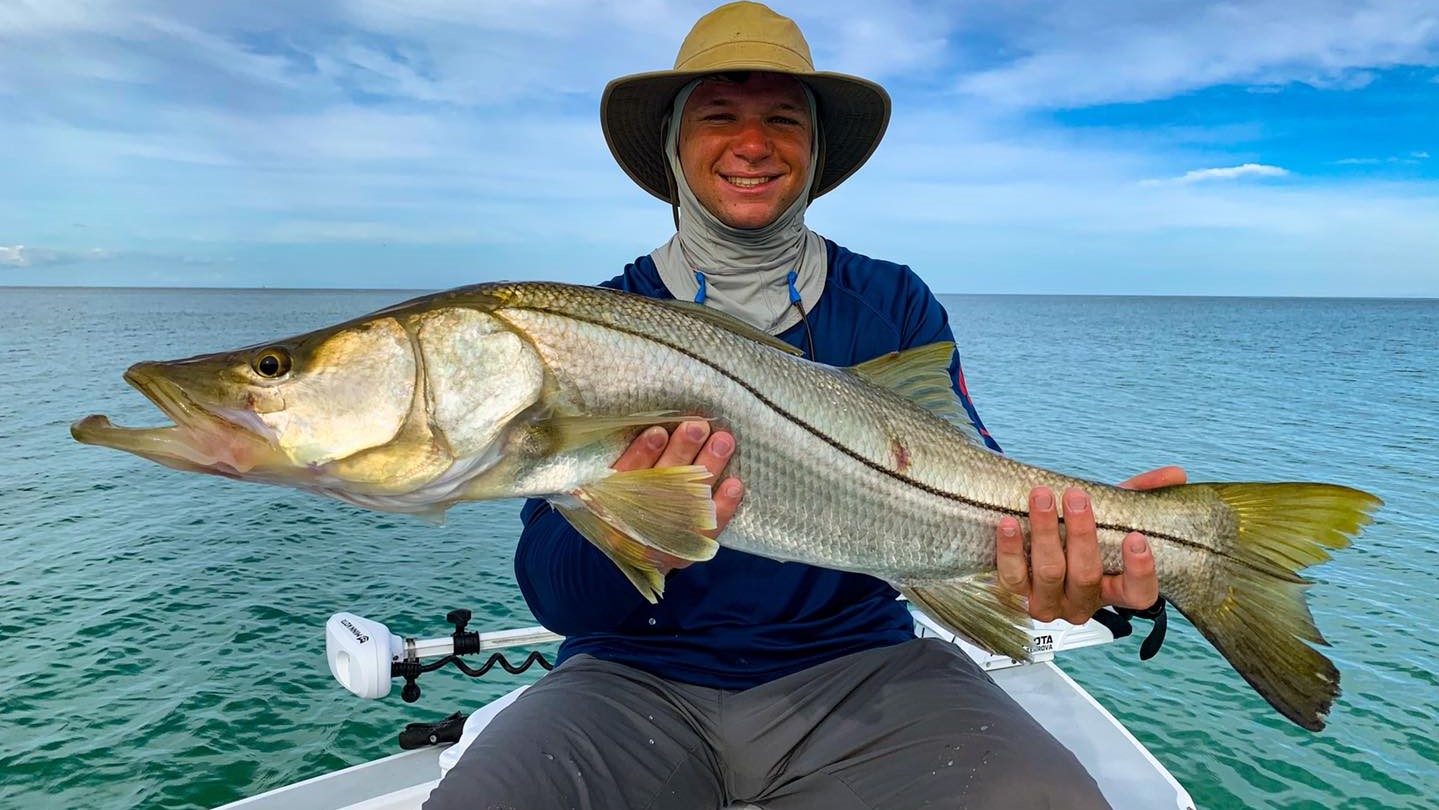 Fish With Captain Nate
Captain Nate is catch and release when it comes to snook, and with good reason. Snook has had a steady amount of environmental pressure over the last few years, with a recent red tide event this past Summer. While FWC did close snook as a result, they opened it back up just days ago. Local fishermen who spend their days on the water know that the population is not ready for this yet, and as such Captain Nate does not allow the harvest of the species on his charters.
In regard to the red tide event of this past summer, it has not had a negative effect on fishing activity – most days have been just plain epic. But, there was catch and release in place for not only snook but redfish and seatrout as well. All of those restrictions have been lifted – but again, locals know it simply isn't time yet.
To Quote Captain Nate:
"My official stance on the harvest of snook, trout, and redfish is that those species just aren't ready for a sustained harvest. The stance I have taken since I started guiding in January of 2013 is that no snook will be harvested on my vessel or any vessel operated under the "Captain Nate Fishing Charters" business name. Furthermore, redfish will not be harvested along with speckled sea trout. Thank you for your understanding."
All of that said, those looking to bring fish home still have plenty to choose from. Snapper, grouper, and Spanish Mackerel to name a few. And, epic battles and amazing days along the coastal waters of Anna Maria Island will still be the most memorable part of your Florida fishing experience while also doing your part to help sustain this amazing fishery.
Learn More About Anna Maria Island Fishing Charters
See Rates, Availability, and Make Reservations