The intercoastal flats near Anna Maria Island are some of the best places to catch Florida's inshore slam. This slam consists of catching redfish, trout, and snook in a single day. These flats vary from a variety of seagrass/vegetation, mud, and sand bottom with interspersed channels and natural and man-made structures. The complex flats ecosystem provides excellent fish habitat throughout the fall and winter months.
Know The Seasons
As water temperature and tides change throughout the seasons, the game fish species will alter their behavior to find food and warmer water.  Capt. Nate knows where and how to target these species on the flats by understanding how the fish alters their behavior with the changing conditions.
As the water cools and winter tides set in, redfish, trout, and snook will begin to adopt their winter patterns. Redfish can often be found cruising shallow mudflats that can hold heat longer, in these circumstances a careful approach can result in sight fishing opportunities. As tides drain off the mudflats, redfish will also seek out nearby shallow water structures, oyster bars, channels, etc.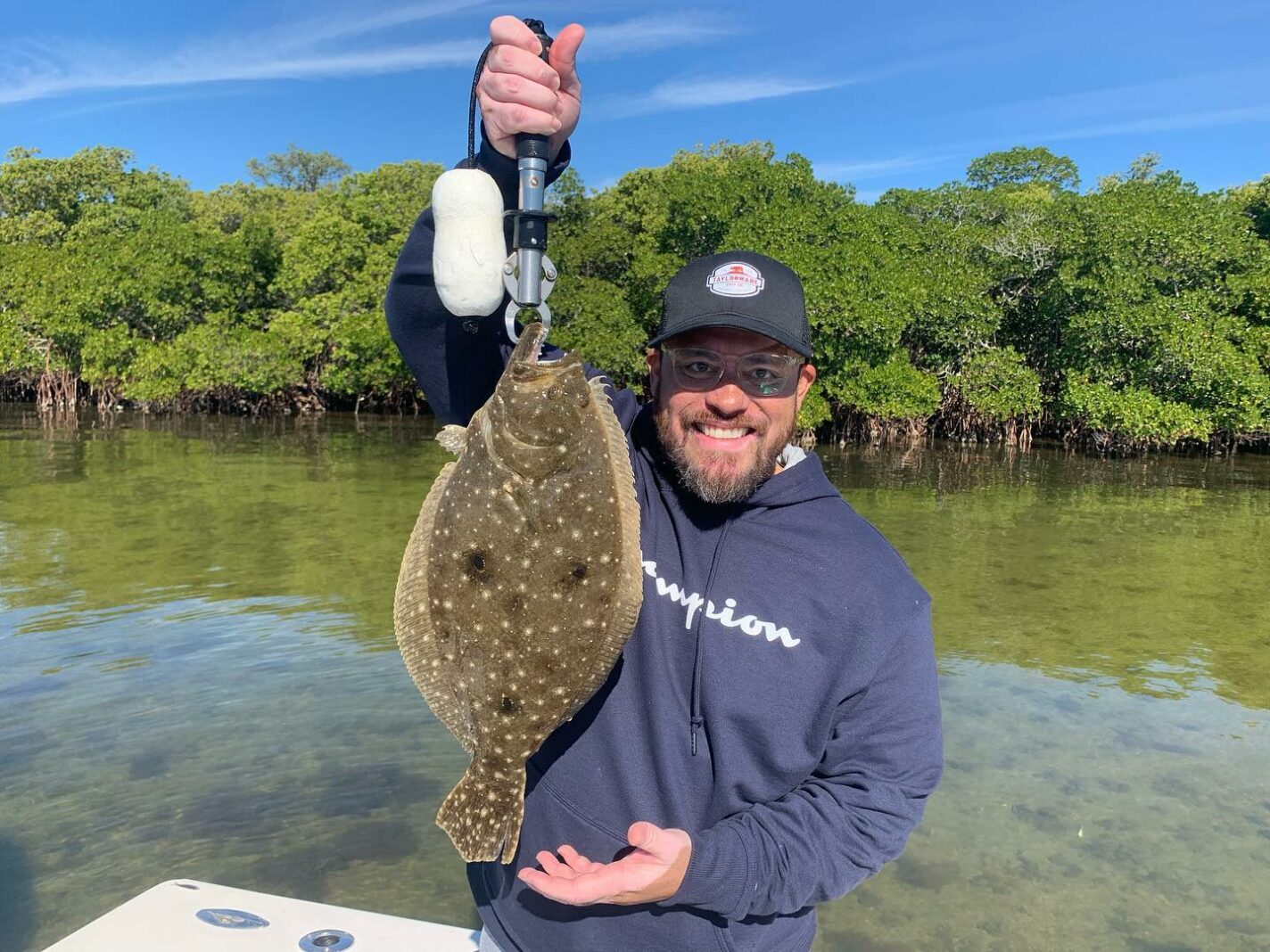 Some Simple Techniques
A variety of techniques can be successful for these redfish. If sight casting, a ⅛ oz. jig head with a soft plastic paddle tail cast out in front of the fish and worked across the bottom can trigger a strike. Jig heads can also be used to sight-cast shrimp to the hunting fish or used in the channels or nearby structure, this technique is particularly useful as the water temperature drops.
Trout will search out healthy grass flats and surrounding potholes in the vegetation, or deeper holes based on variations in the conditions. A popular technique to target trout is to use a popping cork with a soft plastic lure or shrimp suspended underneath. The cork makes sounds that simulate fish feeding and nearby fish are attracted to the sound and then can find the lure/bait.  If the water is deep enough, slow suspending hard lures can also be successful for trout over grass flats. These lures are very easy to cast, and when worked with hard rod twitches simulate the look and sound of injured baitfish.
Snook are most often found nearby natural or man-made structures on the flats or nearby canals. The best approach to target snook in the winter around these habitats is by using live bait, cast or drifted by the structure. The most popular live baits to use are pinfish or shrimp. Snook can be more challenging to catch in the winter months, however by searching out warmer water areas with structure, you should be able to complete your inshore slam on the intercoastal flats of Anna Maria Island.