It has been an exciting start to the month of August in the Bradenton area. While we continue to target our favorite inshore species, we did get a chance to grab a few shallow-water grouper along the way!
The Grouper
Let;'s get this part out of the way. It is not a regular journey for us to go after grouper, but due to the diversity of this fishery and how the shallow end (the bay) is fed and connected to the deep end (the Gulf), we are able to do so.
In just 12 feet of water, we were able to target and catch a couple of our favorite species of Bradenton area grouper. This included a 20″ Black Grouper and a Gag Grouper. Both are pictured above.
Inshore Fishing
Ok, with the amazing grouper catches covered, we'll move on to our regularly scheduled inshore fishing targets. We have had great success targeting resident snook. These guys provide a great fight and have ranged in size from dink to beast. This is an incredible species to catch at any size, and we are fortunate that Bradenton provides some of the best fishing grounds for this species.
Alongside, we have been seeing catches of jack crevalle, cobia, redfish, and others. This fishery is alive and well and we have had the pleasure of fishing in it every single day – for months now.
Family Fishing
We can't leave out the fact that we help create memories for our smaller guests on a regular basis. Captain Nate loves taking families out and makes sure the kids have a great time. Between the weather, area, and environment – this is an awesome way to spend the day with your kids.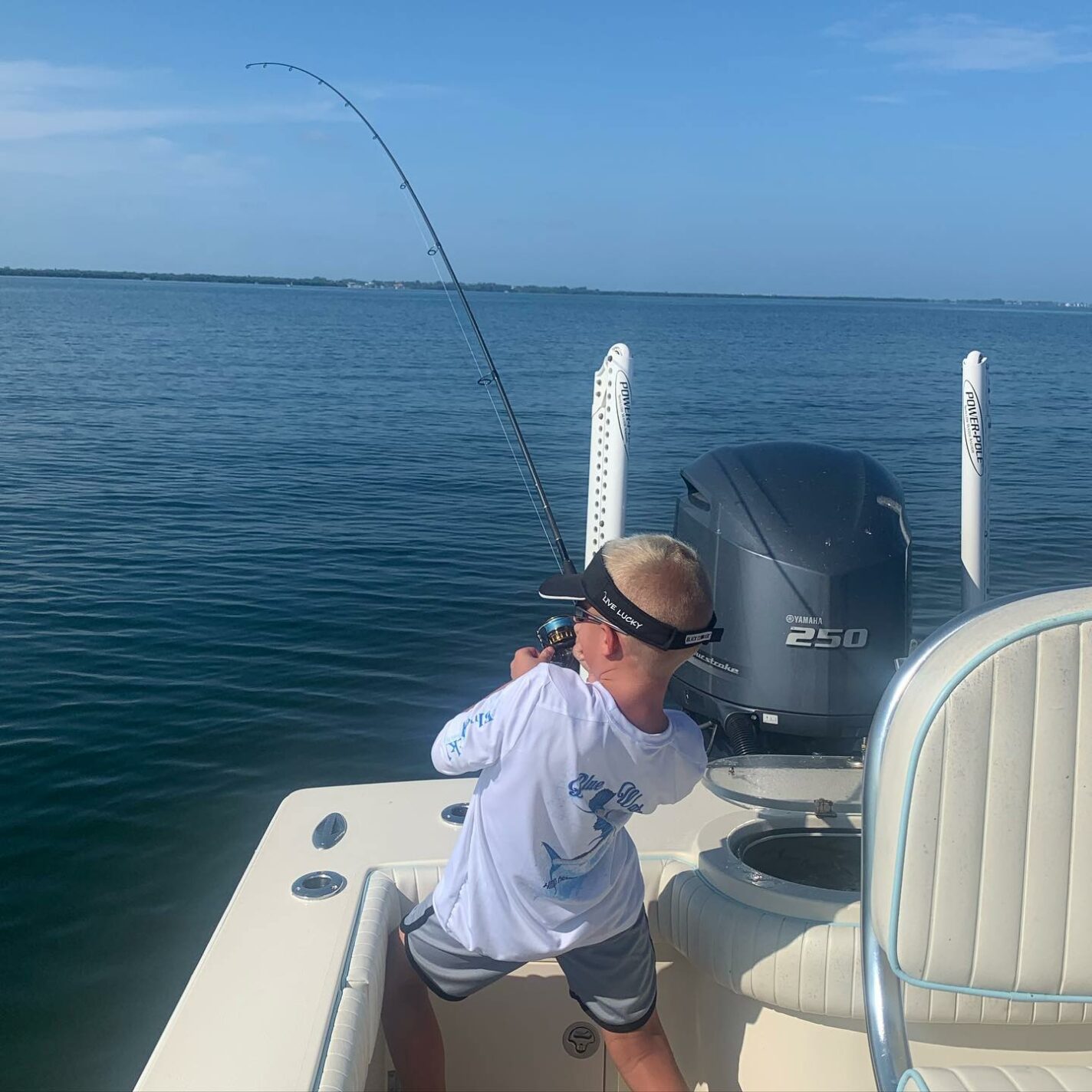 Check out a recent Google review from a family who chose to fish with us:
"Captain Nate was helpful and responsive from the first call through when we shook hands at the end of the trip. My wife and I went with three kids (13, 10, 8), and they all had a great time. He was patient and professional throughout. I have no doubt that had I went with my buddies he would have provided a great trip as well.
If you want to bring kids rest assured that they will have a lot of fun. We had a lot of bent rods throughout the day. My 13 year old would like to add that Cpt Nate had a lot of helpful tips and he was a lot of fun to talk to. My 10 year old would like me to add that he never took his sunglasses off, but she is not sure why that matters. My 8 year old would like me to add that he taught him how to put on bait, and he helped him catch the biggest fish of the day. My wife would like me to add that we caught six species of fish, and saw stingrays, crabs, a turtle, a manatee, a spinner shark, and lots of birds."
Give the kids a way to drop some school stress and plan a weekend or holiday with Captain Nate!
Reserve A Trip
Captain Nate has gone the extra mile to make sure that the reservation process is as smooth as possible for those who wish to go fishing in Bradenton or surrounding areas.
The Resources:
See Real-Time Availability, Rates, & Lock In Your Date, Today
See Rates & Info
See Fishing Options
See FAQ