Sarasota, Florida is home to resident tarpon and is a popular destination for the annual tarpon migration along the gulf coast. Whether fishing along the beaches, coast, or backcountry waterways – targeting tarpon in Sarasota is one of the most popular and exciting types of fishing the area has to offer.
When To Find Tarpon
As previously mentioned, there are resident tarpon and tarpon that flood the area during the annual migration. Between the two there is definitely one time of year you don't want to target them, the winter. When temps drop the tarpon bite, as well as activity, dump off. But, with warm weather and accompanying water temps, it is very common to be able to catch a tarpon for the rest of the year.
The height of tarpon activity in Sarasota is during the yearly migration. This migration starts in the Florida Keys and heads much further north than Sarasota. The start of this migration has to do with water temps, baitfish runs, and spawning times – which can fluctuate slightly from year to year. That said, the prime times to really start looking for the tarpon migration (and fish it) starts in and ends in April and lasts until July.
Where To Find Tarpon
Resident tarpon can be found in intercoastal waterways, inside of the deeper waters of the backcountry, and in deeper pockets along the flats. They can also be found along the beaches.
Tarpon in the migration are no different, but what does make it different is that they are aggressively trailing schools of baitfish (this is their energy source for their migration). It is very common to find dozens, or even hundreds, of migrating tarpon either smashing bait or rolling in these areas.
Tarpon Fishing Gear
Tarpon can reach weights of 100+ pounds. It is important that your gear can handle these large fish. With the weight in mind, also know that tarpon fight aggressively. Between drag smoking runs and acrobatic aerial assaults – they can put a hurt on both your arms and your gear.
Spinning
For spinning gear, an all-purpose setup can be put together by utilizing the following equipment:
5000 to 7000 Series Spinning Reel
Medium-Heavy Action Rod
30-50lb Braid
5 Foot, 50-pound Fluorocarbon Leader (If fishing structure, such as a bridge: 6-10 feet of 60-80-pound fluoro)
Fly Tackle
9′ 10-12wt Rod
Matching Size Reel
Matching WT, Short Head, Weight-Forward, Floating Fly Line (For Quick Casts)
40-60lb Leader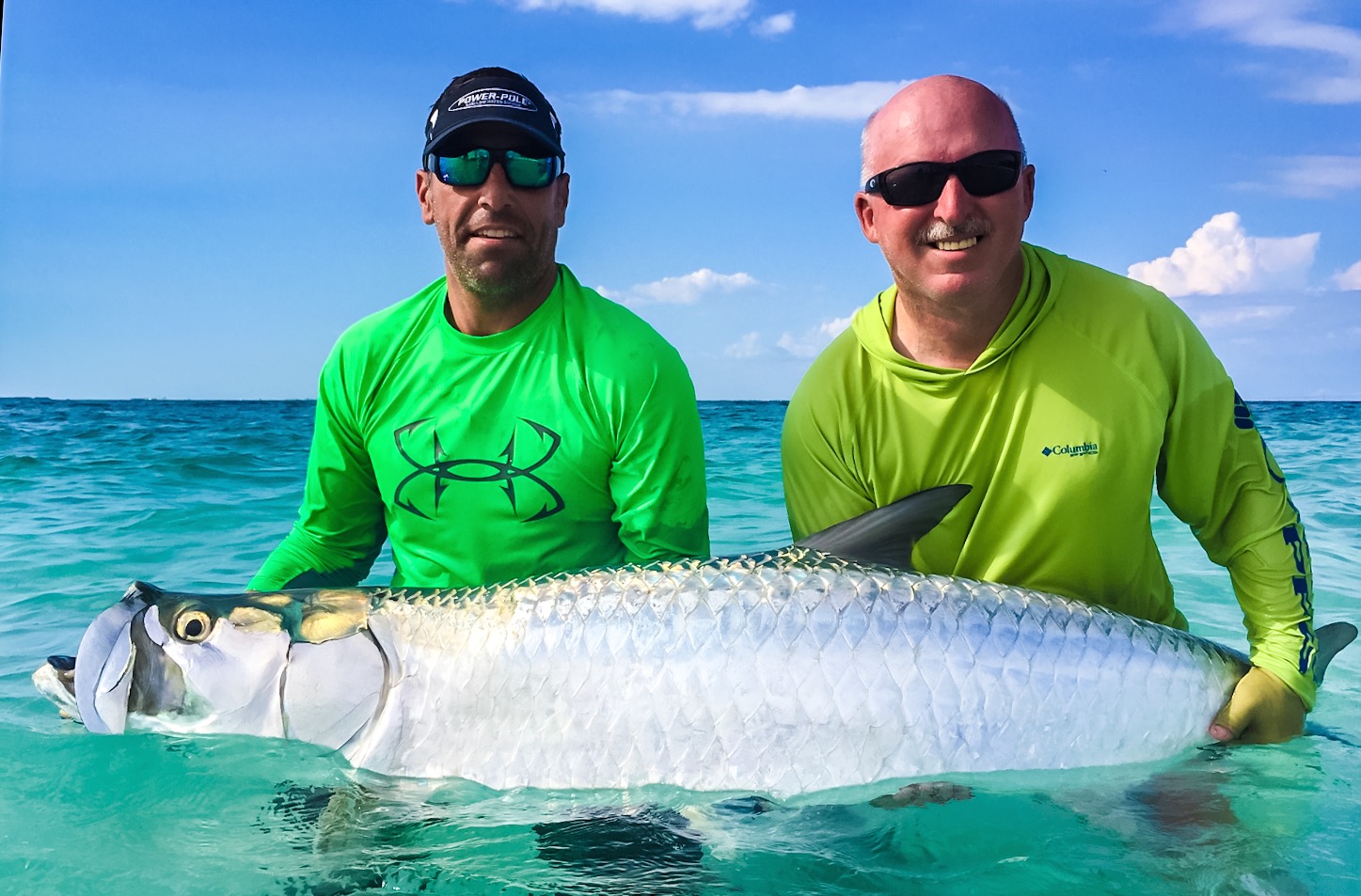 How To Target Tarpon
If spending a day going after tarpon specifically, you should keep a few key points in mind. We will go over those below.
Find Them
When the season is right, tarpon will be aggressively feeding on schools of baitfish or can be found in numbers "rolling" along the surface. This allows one to sight fish for the species with relative ease. A general rule of thumb is to follow the bait, and work the tides – this is the peak of activity.
Working structure and channels is another safe bet, but keep the same methodology in place – work bait and tides.
Live Bait
If choosing to use live bait for tarpon, you'll want to start with a proper hook. A circle hook is the design of choice, with a 6/0 being the most common. However, sizes from 5/0 to 7/0 all have their place.
Your live bait choice can be somewhat of a long list. This can include pilchards, pinfish, grunts, finger mullet, herring, and so on. The best decision will be made around what the tarpon are actually chasing during your time of year and in your specific environment. Local bait shops can be a great place to find this out if you're unsure.
Lures
Tarpon will hit a variety f lures and flies. This also follows the same logic as live bait, mimic what they're eating. That said, everything from bucktails, bonefish sliders, soft plastic, suspending twitch baits, suspending shallow dive baits, and topwater lures can all work for tarpon. Many will have an opinion on color, but natural tones will always be a good bet – dark on the top, light on the bottom.
How To Battle Tarpon
Now that you have gotten this far, what to do when you get one at the end of your line? If this is something you haven't experienced before, you are about to get schooled (by the tarpon, not me). Nothing will replace the experience of understanding what the fight is like better than doing it. That said, there are a few key rules:
"Bow To The King" – A common phrase referencing the act of lowering your rod towards the fish when it takes flight (jumps out of the water). This helps keep the hook set while they are aggressively shaking their heads. Too much tension and you will pull the hook out. Aiming your rod towards the fish helps reduce this unwanted tension (during jumps).
When retrieving line, start with the rod tip up, retrieve the line down, and then lift the rod back up to get ready for your next retrieve session.
Chase them down. Use the boat to chase the fish down and retrieve line.
Get leverage against the fish by placing the rid butt in your hip. Use this point of contact to help you control the rod.
Oppose the run. While the fish is running, pull your rod in the opposite direction. This helps take the fight out of them quicker.