Last Updated on September 12, 2022 by Eric Bonneman
Bradenton beach is a fishing mecca, with endless opportunities to catch game fish like redfish, tarpon, and snook. Fishing here is great! Getting on the water may seem like the difficult part but once you do, there are plenty of areas where you can catch these game fish and more.
Fishing Bradenton
Bradenton, FL is a haven for fishing enthusiasts of all experience levels. Whether you're a seasoned pro looking for a new challenge or a complete novice hoping to reel in your first catch, you'll find everything you need to know about inshore fishing in Bradenton right here. So grab your gear and let's get started!
Foreword
Bradenton beach is a fishing mecca, with endless opportunities to catch game fish like redfish, tarpon, and snook. However, before heading out, there are a few things you should keep in mind.
First and foremost, unless you're fishing from a charter, always obtain the proper licenses and permits before wetting a line, and be sure to familiarize yourself with the local regulations regarding size and bag limits.
Bait and Tackle
Now that we've got that out of the way, let's talk about bait.
If you want to use live bait for fishing in Bradenton, you've got a few good options. Shrimp, mullet, and pilchards are all popular choices among local anglers. Shrimp are easy to find and usually make good bait for a variety of different fish. Mullet and Pilchards are a little tougher to catch, but they're also very popular baitfish.
If you're not sure what kind of bait to use, it's always a good idea to ask around at your local bait shop or fishing charter company. They'll be able to give you the best advice about the kind of fish you're hoping to catch.
If using live bait, be sure to keep it fresh by using a baitwell or aerated live well onboard your vessel. Nothing puts off a bite faster than stale bait!
Lures
As for lures, there are endless possibilities available on the market today. However, when fishing inshore waters around Bradenton, we recommend sticking with soft plastics like grubs, swimbaits, and jerk baits. These lures mimic baitfish which are abundant in these waters and are sure to put plenty of fish in the boat.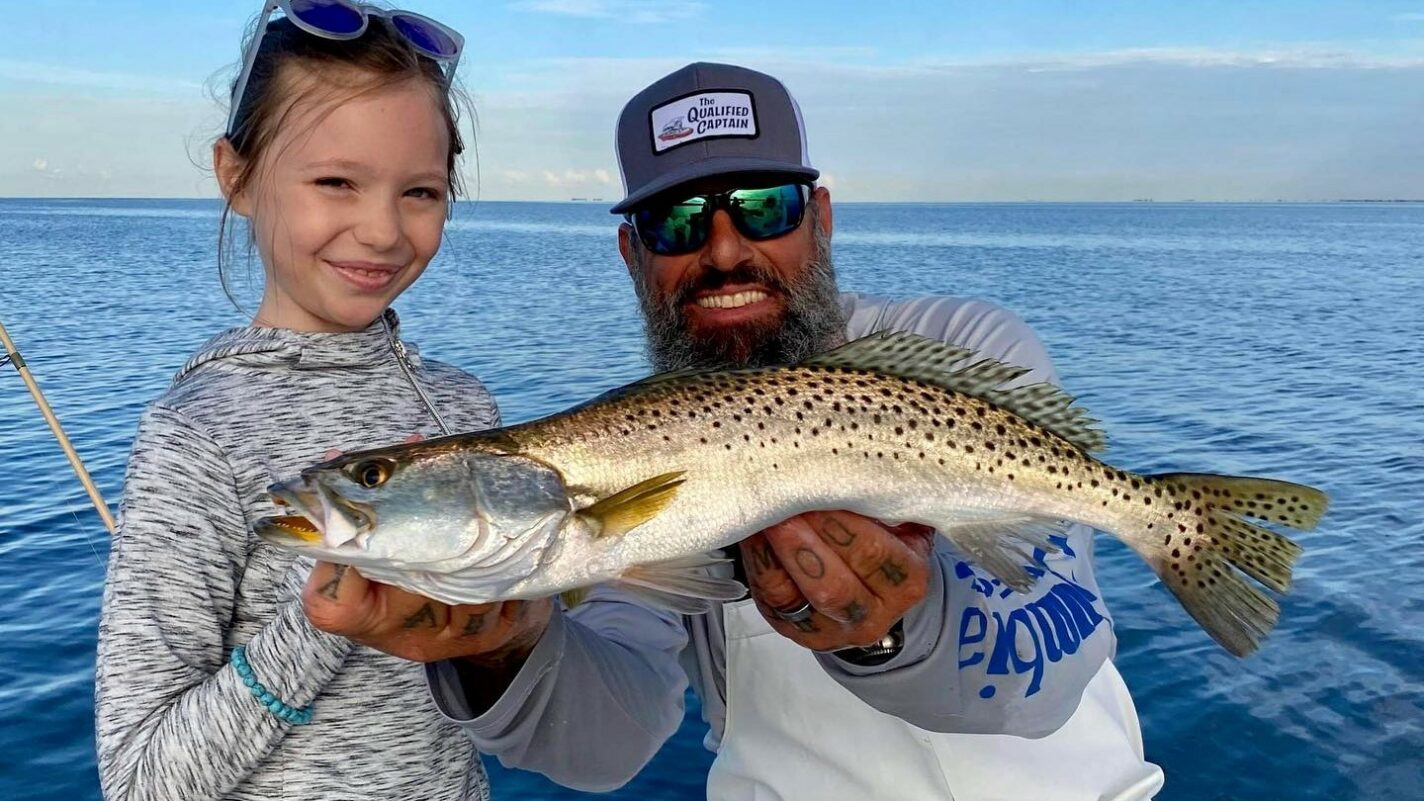 Types of Fish
Whether you're an experienced fisherman or just getting started, Bradenton Beach is a great place to try your hand at catching redfish, snook, tarpon, and sometimes even a shark! The waters around Bradenton Beach are teeming with fish, making it a popular spot for both recreational and commercial fishermen.
Let's talk about identifying these fish and a few others:
Redfish:
The most recognizable feature of this fish is the black marking towards the tail, sometimes there are multiple of these dots trailing toward the body. Redfish are also, well, "red" fish. They are a reddish sometimes golden hue that lightens up in color on their body from the darkest color on top to the lightest on the belly.
Snook:
Snook are most identifiable by the thin black line that travels along the side of the body onto the tail. They also have large mouths and a high-divided dorsal fin, they are a silver overall color with a yellow-hued pelvic fin.
Tarpon:
This monster fish is known for its fight! Adult tarpon weighting 50-200 lbs, maxing out in weight around 300 lbs, these fish are huge. They have upward-pointing large mouths, their armorlike scales are generally silver and turn to a darker black-blue-green hue as you travel from the lighter lower body to the darker upper portion of the fish.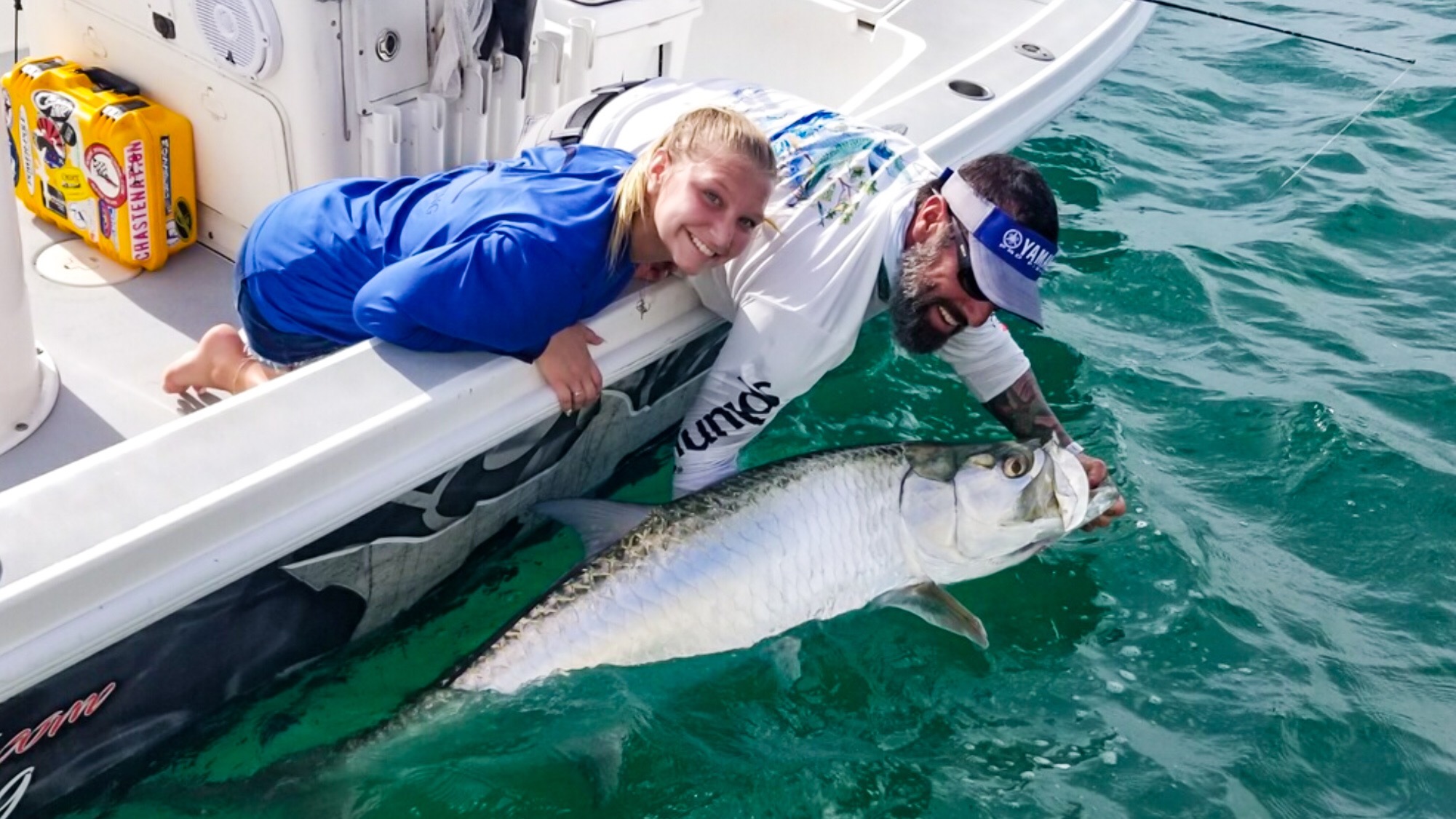 Spotted Sea Trout:
these fish, sometimes called speckled trout or "specks", are known for their spots all along their backs, They have a lightly colored underbelly that transitions to a darker blue-green hue as you travel up to their back. They also have a noticeable pair of canine teeth.
Mangrove Snapper:
Going by many names, gray, black, mango, or mangrove snapper are generally darker brown in color with hues of orange and red throughout. They have dorsal fins with dark red hues at the end. These fish are common in length up to 24 inches. (Also from personal experience, they taste pretty good.)
There is still plenty of other species of fish to catch that put up a fight and many are great sources of amazing flavor!
Final Word
So if you're looking to go fishing in Bradenton, Florida, but don't know where to start, a fishing charter may be the perfect solution for you. Captain Nate can get you on a fish in no time, and he provides all the equipment and knowledge you need to make your trip a success remember, charters provide licenses for you, one less step! Heck, he'll even prep and bag your fish if you want to keep them. All you need to bring is yourself, appropriate clothing, food and water, and a positive mental attitude. book your trip today and see what Bradenton fishing is all about!