Last Updated on November 6, 2023 by Eric Bonneman
If you're thinking about where to take the family for a bit of fishing, you might want to consider Anna Maria Island. It's got a reputation for being one of the go-to spots for inshore fishing, and for good reason. The waters are teeming with a bunch of different fish, and the spots are just right for a relaxed day with the rod and reel.
Now, if you're bringing the family along, especially if you've got some eager young anglers in the mix, you want the trip to be hassle-free and enjoyable. That's where folks like Captain Nate come into the picture. He's been around these waters for a good while and knows the ins and outs of fishing here. More importantly, he knows how to make it a good time for families.
Captain Nate's not just any charter captain. He's a dad himself, so he gets the family angle. He runs his trips with a family-first mindset, making sure everyone from the little ones to the grown-ups has a good time. And it's not just about catching fish; it's about spending time together, learning a thing or two, and just enjoying the water.
So, if you're eyeing Anna Maria Island for your next family outing, you're on the right track. Inshore fishing here is as straightforward as it gets, with a good chance of reeling in something worth telling stories about. And with Captain Nate or one of the other local pros, you're in for a day that's less about the frills and more about the fun.
What Makes Anna Maria Island Ideal for Inshore Fishing
Anna Maria Island isn't just another spot on the map; it's got its own set of tricks to make it a standout place for folks looking to cast a line inshore. It's nestled right at the southern mouth of Tampa Bay, with the Gulf of Mexico on one side and a rich estuary system on the other. This sort of setup is like a dinner bell for a whole bunch of fish, making the waters around the island pretty lively.
Now, you might be wondering what kind of fish call these waters home. Well, you've got your usual suspects like snook, redfish, and trout — the kind that put up a good fight and make for a good story. But the list doesn't stop there. Depending on the season and where you drop your line, you could find yourself reeling in anything from flounder to Spanish mackerel, and maybe even a tarpon if you hit the right spot at the right time.
What's more, getting out there isn't a whole production. You don't need to venture far offshore or deal with the deep blue to find a good catch. That's what makes it a solid choice for families, especially if you've got kids along. The waters are generally calm, the fish are plentiful, and you don't have to be a pro to have a good day.
In a nutshell, Anna Maria Island's got the right mix of things for a solid day of inshore fishing. It's got the geography that attracts fish, a variety of species to keep things interesting, and it's easy to get to the good spots. For families looking to spend some time together and maybe catch dinner, it's just about perfect.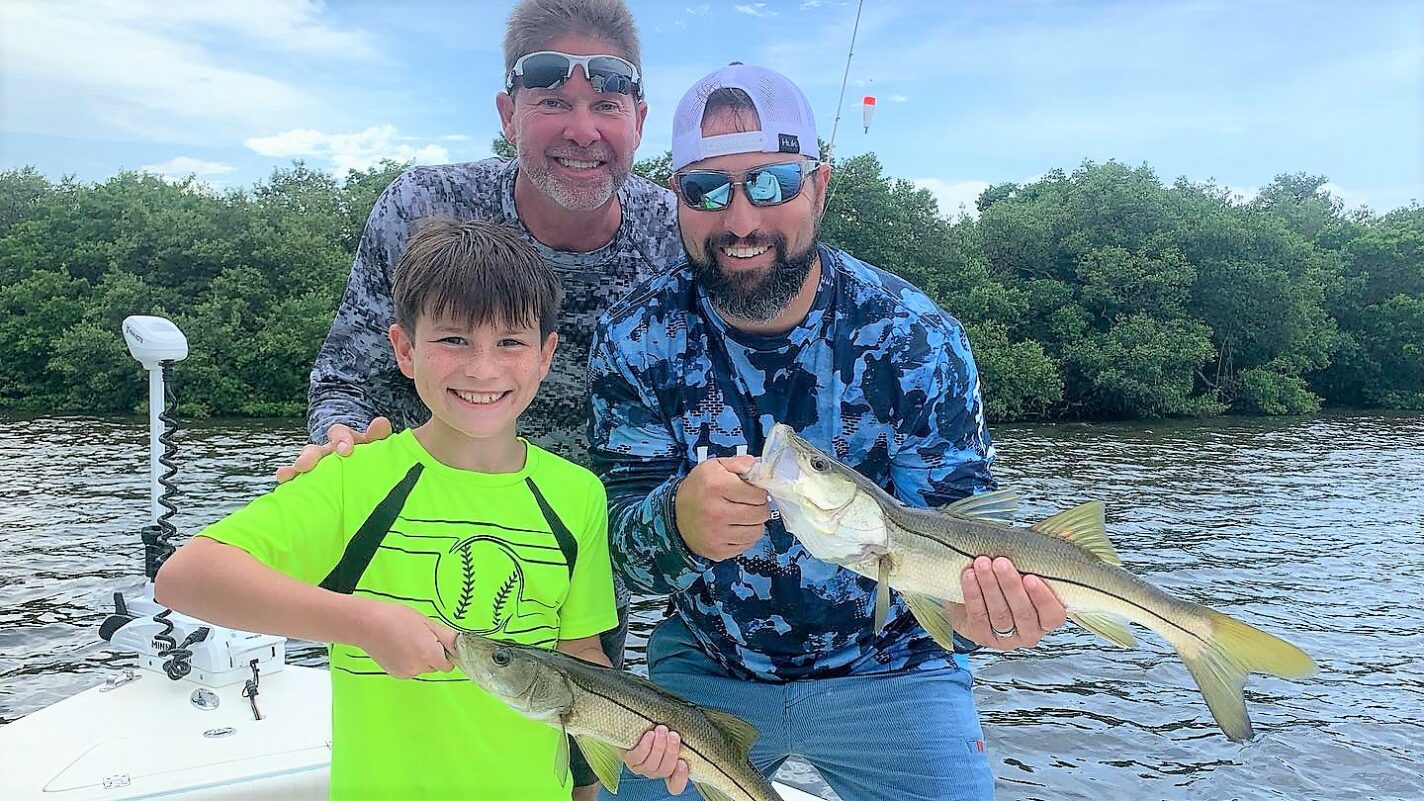 Essential Gear for Inshore Fishing
Alright, let's talk gear. For inshore fishing, you don't need a mountain of equipment to have a good time. Just a few basics will do the trick. First up, you'll want a rod and reel combo that's not too heavy – something that's comfortable to hold and easy to manage, especially if you've got kiddos taking turns. A medium-light action rod around 6 to 7 feet long is a good choice. It's versatile enough to handle most of what you'll find inshore without being overkill.
Next, you'll need some line. A 10 to 15-pound test line is usually plenty for inshore fishing. It's strong enough to hold up against the feisty ones but not so heavy that it takes the fun out of the smaller catches. As for bait, live shrimp is a safe bet; it's like a dinner bell for inshore fish. But if you're not keen on dealing with live bait, there are plenty of artificial options that work just fine.
Now, here's a pro tip: If you're heading out with a charter like Captain Nate's, you can skip the gear checklist. These folks have all the equipment you'll need, and it's usually top-notch stuff. Plus, they'll have the right bait for whatever you're aiming to catch, so that's one less thing to worry about.
Preparing for Your Inshore Fishing Adventure
Before you hit the water, there are a few things to square away. First off, you'll need a fishing license. But if you're going with a charter, they've usually got that covered under a charter fishing license, so everyone on board is good to go.
Now, let's talk essentials. The Florida sun doesn't mess around, so sunscreen is a must. Slap on a hat and some polarized sunglasses too – they'll cut the glare on the water and make it easier to spot fish. And when it comes to clothes, think light and breathable. You'll be more comfortable, especially if you're out for the whole day.
Lastly, don't forget to pack some snacks and drinks. Staying hydrated is key, and having a few bites to eat will keep the energy up. Most charters have a cooler on board for your stuff, so you can keep everything fresh.
In short, a little prep goes a long way. Get your gear right, cover the basics, and you're all set for a great day of inshore fishing.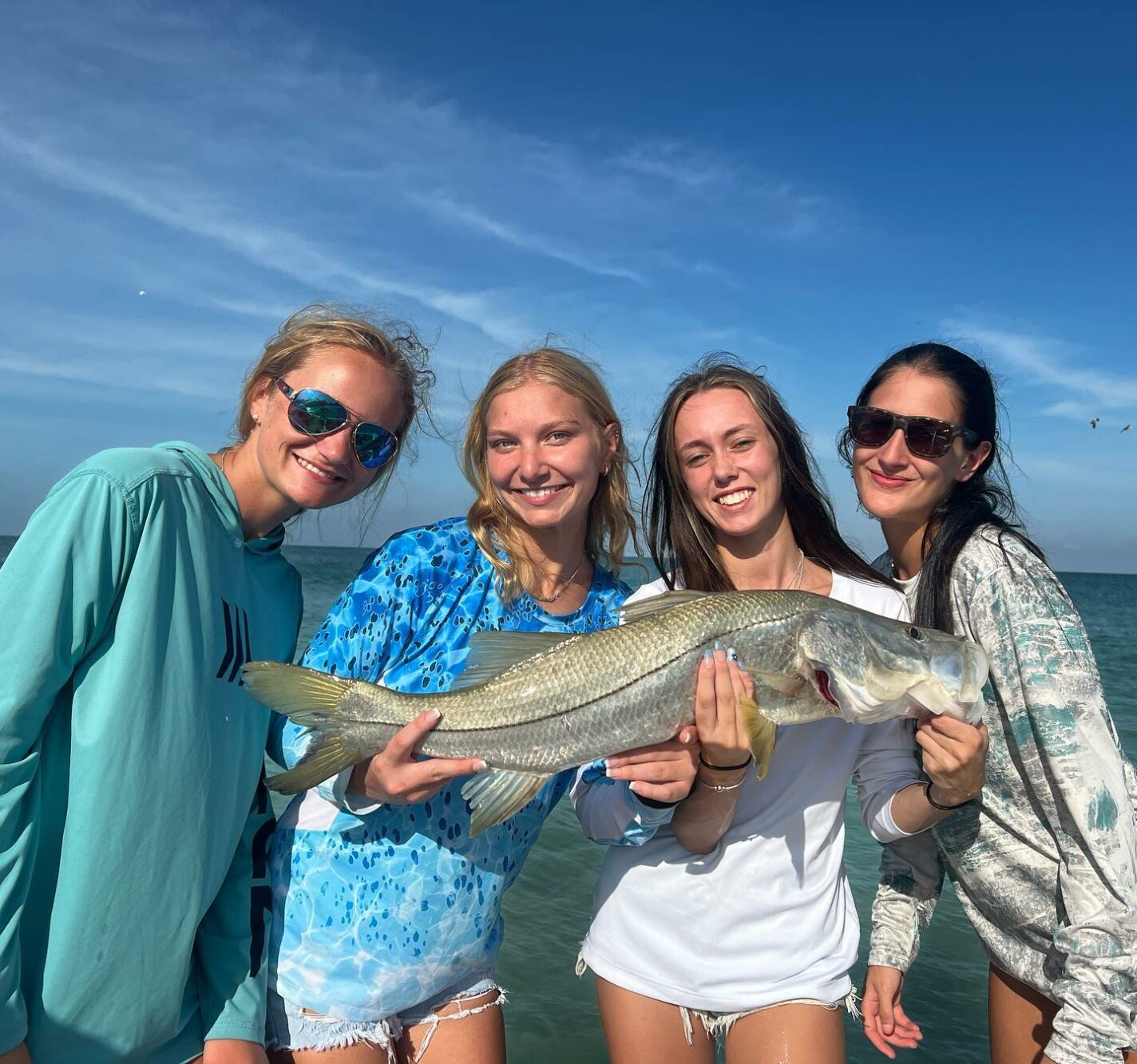 Top Spots for Family-Friendly Inshore Fishing
Anna Maria Island and its surrounding areas, including Holmes Beach and Bradenton, are home to some prime fishing spots that are just right for families looking to spend a day on the water.
First up, we've got the waters around Anna Maria Island itself. This place is situated in such a way that you've got the Gulf of Mexico on one side and Tampa Bay on the other. That means you've got a variety of environments to fish in, from open water to the more sheltered bay areas. It's especially good for those just starting out or if you've got little ones on board, as the waters here are usually calm and easy to navigate.
Then there's Holmes Beach, right in the heart of Anna Maria Island. The location is top-notch because you've got access to both the Gulf and the backcountry waters. It's a bit of a sweet spot for finding a range of fish without having to go too far from shore, which is always a plus when you're out with the family.
Bradenton is another spot that's worth a mention. It's tucked away on the mainland but still close to the action. The inshore fishing here is solid, with plenty of spots like mangrove shorelines and grass flats that are teeming with fish. It's the kind of place where you're likely to have some luck without having to venture too far or get into anything too challenging.
What makes these spots stand out, especially for family trips, is that they're safe, easy to get to, and you're not likely to come up empty-handed. Whether you're with a pro like Captain Nate or venturing out on your own, these areas are known for being productive and enjoyable for anglers of all ages.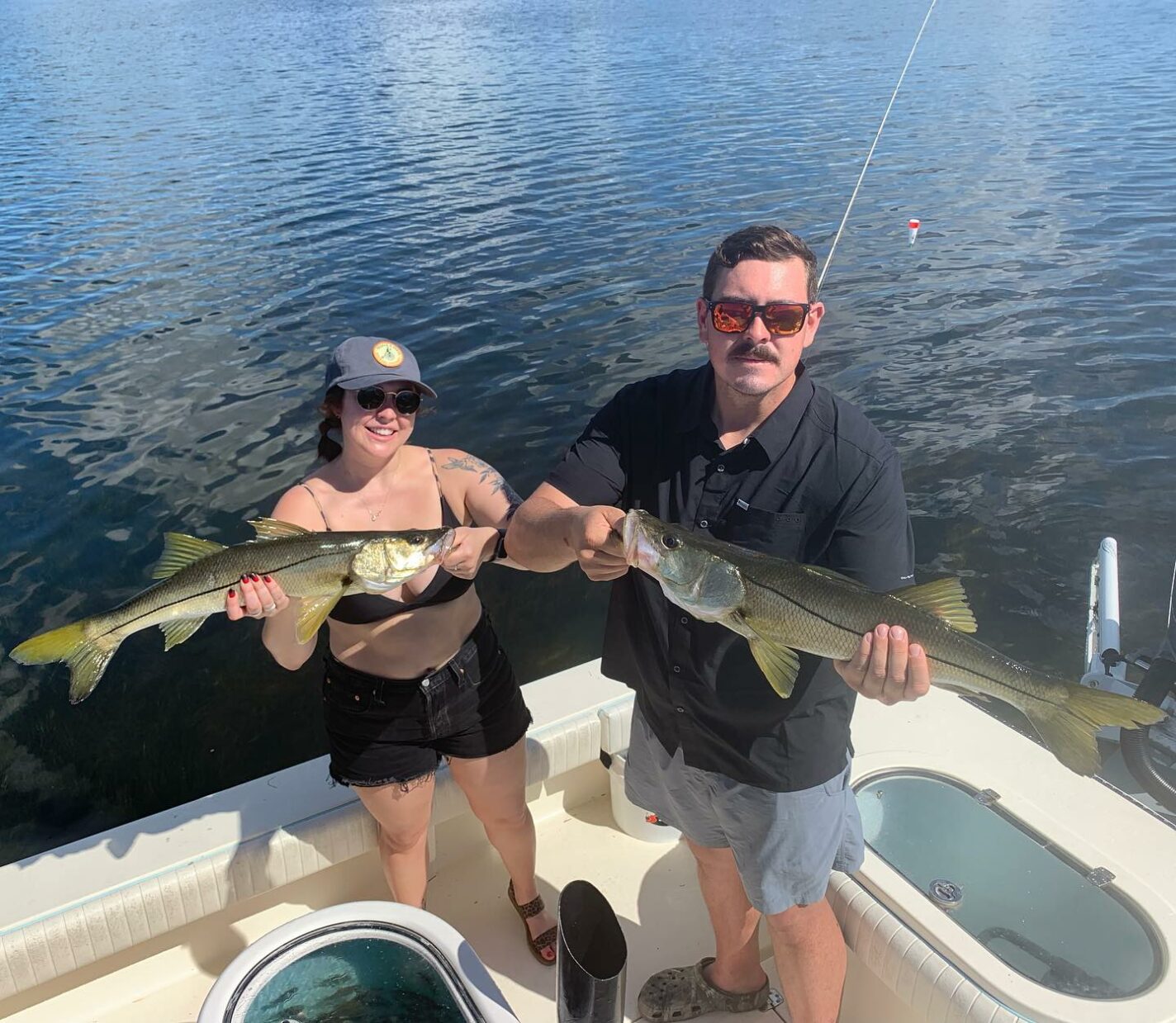 The Role of Charter Companies in Enhancing Your Experience
When it comes to fishing, especially if you're new to the game or bringing the family along, going with a charter service can make a world of difference. Think of it like having a guide when you're exploring somewhere new. These folks know the local waters like the back of their hand. They can take you right to where the fish are biting, which means more action on the line and less time guessing.
For families and beginners, a charter service takes a lot of the guesswork out of fishing. You don't need to worry about finding the right spot, choosing the right bait, or even bringing your own gear. Plus, safety's a big part of their job, so you can focus on having a good time without the stress.
Now, let's talk about Captain Nate and his crew. They're not your run-of-the-mill charter service. They've tailored their trips to be family-friendly through and through. You're not just going out to fish; you're going out to learn a bit, laugh a lot, and make some memories. Captain Nate's been doing this for a long time, and he's got a knack for making everyone, especially the kids, feel right at home on his boat.
Family Outings with Captain Nate
There's something special about heading out on the water with Captain Nate. Families come back with more than just fish; they come back with stories. Whether it's a kid's first catch or a shared family moment reeling in a tough one, these trips have a way of sticking with you.
Captain Nate's charters are all about hands-on learning. It's not just about sitting back and watching; it's about getting involved. Kids and adults alike get to learn the ropes, from casting out to reeling in, and everything in between. And Captain Nate's there to guide you every step of the way, with a patient hand and a steady stream of tips and stories.
What's more, when you head out with Captain Nate, you're pretty much set from the get-go. The charter includes your fishing license, bait, ice in the cooler, and all the gear you'll need. They'll even clean and bag your catch for you. And don't worry about gas for the boat; that's covered too. It's a full-service deal, so all you've got to bring is your sense of adventure and maybe a snack or two.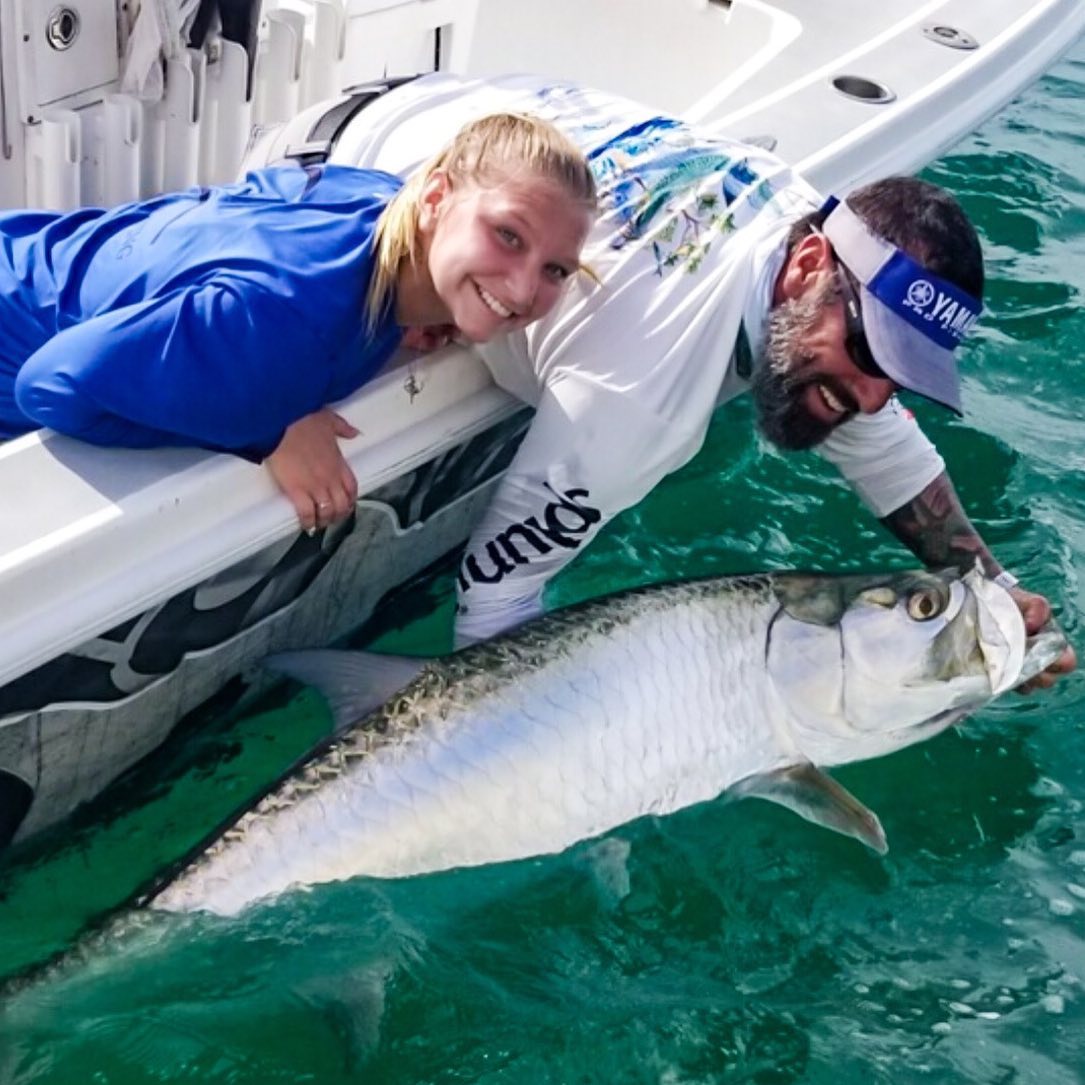 Responsible Fishing Practices and Environmental Stewardship
Being out on the water is about more than just catching fish. It's about respecting the place that gives us these experiences. Responsible fishing is the name of the game, and it's something Captain Nate takes seriously. He's big on making sure the waters and fish populations stay healthy for generations to come.
During his charters, Captain Nate makes it a point to teach families about the importance of catch-and-release, following size and bag limits, and why we need to keep the waters clean. It's about enjoying what the environment has to offer while making sure we're not harming it. That way, these fishing spots will be just as good, if not better, down the line.
Your Next Step to an Authentic Fishing Trip
So, there you have it. Anna Maria Island's a great spot for inshore fishing, especially if you're bringing the family along. And if you want to make the most of it, a charter with Captain Nate is the way to go. You're looking at a hassle-free trip with all the gear provided, a boatload of knowledge, and a focus on family fun and environmental respect.
Ready to cast a line and reel in some memories? Book your trip with Captain Nate today and experience the best of Anna Maria Island's inshore fishing.